In anticipation of the release of his second novel, CopWorld Press has acquired the rights to author Wes Albers' debut title, Black & White. First published to wide acclaim from both civilians and law enforcement by Zova Books in 2012, Black & White chronicles veteran San Diego Police Department patrolman John Hatch's efforts to solve a gruesome murder between 911 calls and breaking in a rookie partner.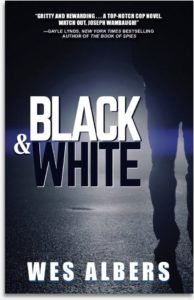 "Along the way, he traverses the street experiences, the nagging take-home emotions, the communal pranks, and the maddening departmental politics that any officer with a few years under his gunbelt will recognize in spades," writes The Force Science Institute, a behavioral research and training organization dedicated to law enforcement.
"Before you think this is the classic police novel, don't! It has some great police stories, and one whodunnit, but the mystery plays a secondary role to the character study of John Hatch," proclaims The 30-Year Itch.
CopWorld Press, in partnership with longtime publisher Hellgate Press, is a newly launched independent publishing company dedicated to working exclusively with law enforcement authors of mystery and police procedural fiction, memoir and true crime.
Out now, Black & White is available through bookstores, online booksellers, Ingram or direct from the publisher.